bumper scratches • panel scratches • windscreen chips • dents • alloy wheel scuffs • plastic welding
about cosmic colours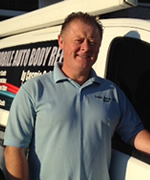 mark turton, cosmic colours
Cosmic Colours is based in Doncaster ideally located to provide our Mobile service around the South Yorkshire region.
My name is Mark Turton, I have over 20 years experience in Car body repair, starting with a brief spell at Toyota as a Paint Sprayer and later working for a national smart repair company for a number of years.
I set Cosmic Colours Limited in 2007. We provide services for both private and trade companies and also repair lease vehicles. I pride myself and Cosmic Colours in providing a competitively priced, high standard of work and a friendly and reliable service. I specialise in SMART repair... small to medium area repair technique not all damage is repairable many factors inluding where on the car the damage is and colour can decide if a smart repair is viable.
I always advise on the best option to get get your car back to how it was.
How to receive a Quote
We arrange a convenient time to call around to your home or work place and assess the damage and repair work needed and offer a completely free quote, or you can send images with a brief description and your contact details to my email address [email protected] and I can usually quote you within hours.
live twitter feed
contact us for a free quote
If you would like a completely free no obligation quote, please use the form below or call Mark on 07940 418829 with the service selected or email me at [email protected]